Post Malone Musisi Paling Banyak Didengerin User Spotify Selama 1 Dekade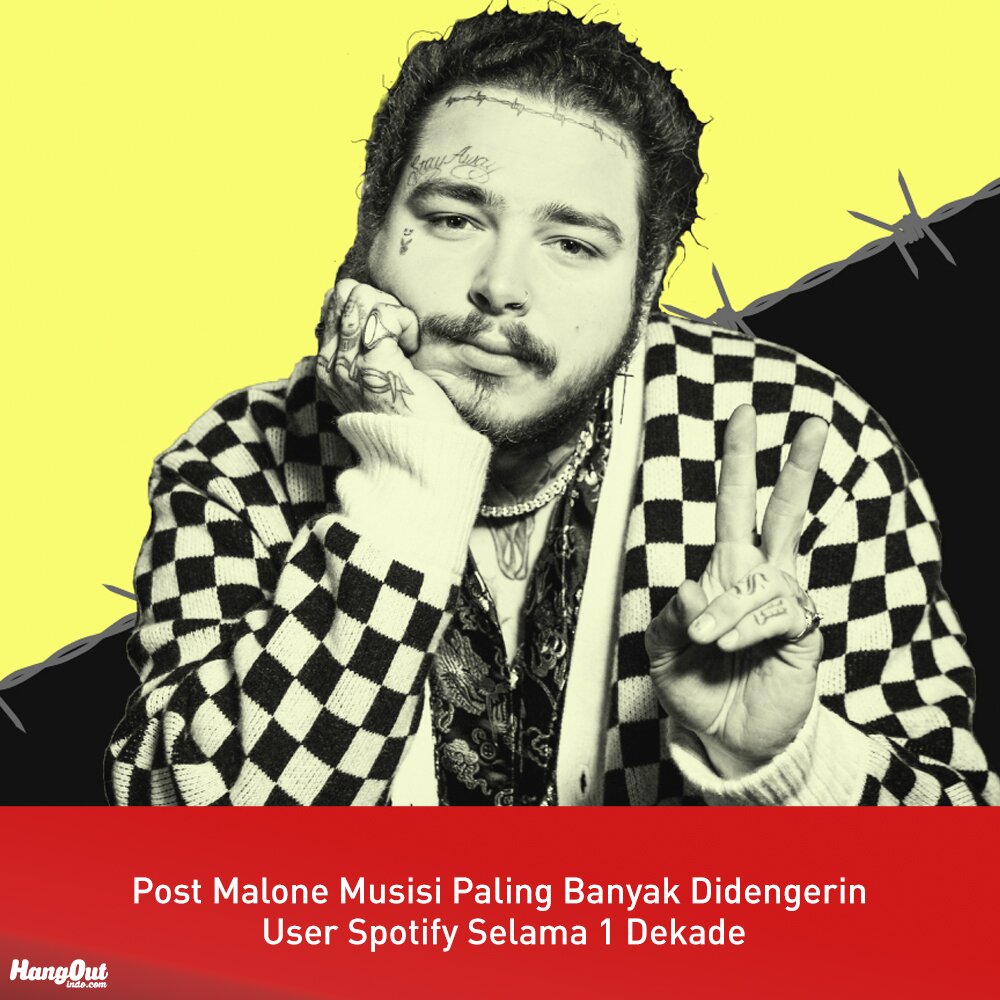 Spotify telah membagikan daftar artis dan lagu yang paling banyak didengerin dalam satu dekade terakhir.
Dalam daftar tersebut, Drake dan Ed Sheeran masuk sebagai musisi yang mendapat paling banyak streaming di tahun 2010-an.
Drake berada di peringkat 1, sedangkan Ed Sheeran ada di peringkat 2 dalam daftar musisi yang paling banyak didengarkan selama 10 tahun terakhir di Spotify. Di bawahnya ada Post Malone, Ariana Grande dan Eminem sebagai Top 5.
Untuk lagu yang paling banyak didengar, Ed Sheeran memuncaki daftar ini untuk lagu "Shape of You" dengan angka 2,4 miliar streaming. Sedangkan Drake di bawahnya dengan lagu "One Dance" sebanyak 1,7 miliar.
Ed Sheeran juga kembali muncul di nomer 5 dengan lagu "Thinking Out Loud", lalu "Closer" dari The Chainsmokers di nomor 4 dan "Rockstar" dari Post Malone di nomor 3.
Selain daftar dalam kurun satu dekade, Spotify juga membagikan daftar yang paling banyak didengarkan di tahun 2019 ini. Berikut daftar lengkapnya di bawah ini:
Most-streamed artists of the 2010s
1.Drake
2.Ed Sheeran
3.Post Malone
4.Ariana Grande
5. Eminem
Most-streamed songs of the 2010s
1."Shape Of You" – Ed Sheeran
2. "One Dance" – Drake
3. "Rockstar" – Post Malone
4. "Closer" – The Chainsmokers
5. "Thinking Out Loud" – Ed Sheeran
Most-streamed artists of 2019 (Global)
1. Post Malone
2. Billie Eilish
3. Ariana Grande
4. Ed Sheeran
5. Bad Bully
Most-streamed songs of 2019 (Global)
1. Senorita" – Camila Cabello and Shawn Mendes
2. "Bad Guy" – Billie Eilish
3. "Sunflower" – Post Malone
4. "7 Rings" – Ariana Grande
5. "Old Town Road" – Lil Nas X
Most-streamed albums of 2019 (Global)
1. 'When We All Fall Asleep, Where Do We Go?' – Billie Eilish
2. 'Hollywood's Bleeding' – Post Malone
3. 'Thank U, Next' – Ariana Grande
4. 'No. 6 Collaborations Project' – Ed Sheeran
5. 'Shawn Mendes' – Shawn Mendes
Tags :
Post Malone Musisi Paling Banyak Didengerin User Spotify Selama 1 Dekade
Post Malone
Spotify
Wrapped
Artikel Terkait