Mega Career Expo Jakarta – Februari 2020
Diikuti lebih dari 80 perusahaan Nasional dan Multinasional Berkredibilitas dibawah ini :
HONDA JAKARTA CENTER ( PT. IMORA MOTOR )
PT. DATASCRIP
PT. SUTINDO
PT. EXA MITRA SOLUSI
PT. GRIYA MIESEJATI ( BAKMI GM )
PT. PRIMA KARYA SARANA SEJAHTERA ( GROUP BRI )
PT. HANDAL GUNA SARANA ( TIRTA GROUP )
IMPORTIR.ORG
BIZNET NETWORK
EQUITY WORDS
BINUS ONLINE LEARNING
PRIMACOM INTERBUANA
BNP2TKI
PT. INFINITUM SOLUTIONS
PT. ASTRA INTERNATIONAL, TBK
SAMBILANKU.ID
SOULOFJAKARTA.COM
MAXIMA IMPACT INDONESIA
O CHANNEL
URBANHIRE
PT. ASTRA INTERNATIONAL, TBK (DAIHATSU)
PT. CIPTA KIDUNG ESKA
PT. CITRA KREASI HUTAMA
dan masih banyak lainnya
S&K bagi pencari kerja :
WAJIB mengikuti akun IG @megacareerexpo
WAJIB mengenakan pakaian formal warna bebas dan sepatu
WAJIB membawa CV Hardcopy dan berkas lamaran lainnya (foto 3×4/4×6, ijazah akhir, surat referensi kerja bila ada dan berkas lainnya)
Silakan pre-registrasi di link berikut ini : http://bit.ly/mcesmescofeb2020
Tunjukkan bukti registrasi Anda di lokasi acara
Detail Event
Tanggal Mulai : 26 February 2020, Jam 10:58 AM
Tanggal Selesai : 27 February 2020, Jam 10:58 AM
Lokasi : Ged. Smesco – Exhibition Hall, Jl. Gatot Subroto Kav. 94, Jakarta Selatan
Provinsi : Daerah Khusus Ibukota Jakarta
Kota : Jakarta Selatan
Area : Ged. Smesco – Exhibition Hall
Info Lengkap
Event Lain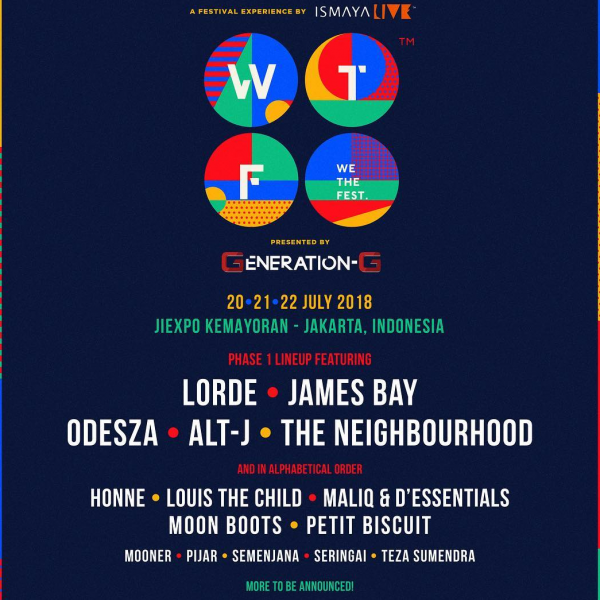 We The Fest is an annual summer festival of music, arts, fashion and food taking place in Indonesia' ...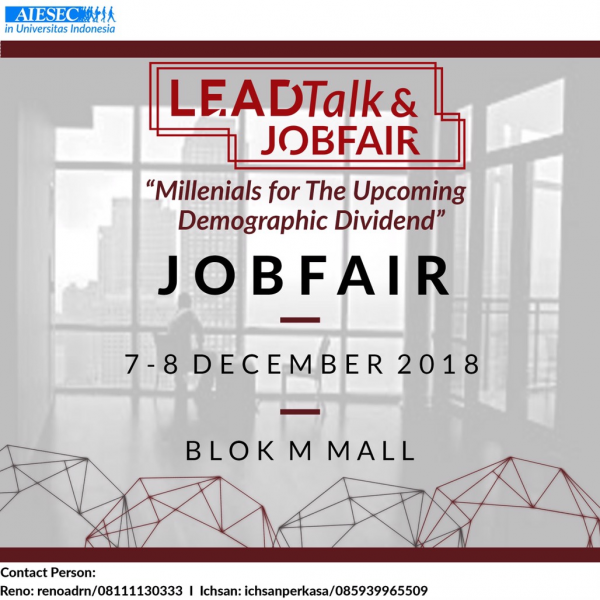 Datang yuk ke Lead talk and Job Fair AIESEC Universitas Indonesia. Ada ratusan lowongan pekerjaan da ...
Kamu lagi cari kerja? Datang aja ke Job Fair Kampus Trilogi Jakarta! Tersedia banyak lowonga ...